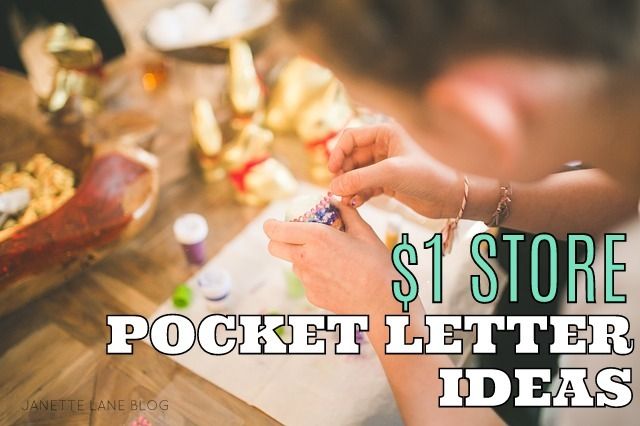 I know that making pocket letters can be a pricey hobby, but it doesn't have to be if you think a little creatively and "out of the box"! I went to the Dollar Tree a while ago and found some cute things to make pocket letters on a budget. I'm sharing some
pocket letter tips
in this post and also in the video below. With a little imagination, it's easy to think of inexpensive ways to make pocket letters and goodies too!
Pocket Letter Tips
-
Silk flower blooms
: A whole bouquet won't fit in a pocket, but if you pluck off the blooms, you can fill your pocket letters with flowers that will last!
-
Use a kids tutu
: Kid tutus are colorful and frilly. You can use the material to make a wrapping for your pocket letter. (Check out Aideen's post on
creative pocket letter wrapping ideas
)
-
Sticky notes that are pocket letter size
: You can find a lot of sticky notes at the dollar store. I like to stamp mine with cute images in the corner to personalize them.
-
Stickers for $1
: The dollar store is probably the only place you'll find a large selection of stickers for cheap. You can use them to decorate your pocket letters or to send as goodies!
-
Gift Wrap
: Check the gift wrap section for cute paper to use as your pocket letter backgrounds. Especially if you're doing a certain theme like a birthday or wedding. Or if you find a print you like, say with popsicles, you can cut out the individual shapes, laminate them, and send them as die cuts for your pals! (Watch my
video
to see what I'm talking about...)
-
Hair Accessories
: Barrettes or hair clips can be sent "as is" to your pal, or you can make embellished paperclips with a little hot glue!
Themes
-
Beach/Hawaiian/Luau Theme Pocket Letter
: Use some beach-themed napkins to fill a pocket. Also check the party aisle at your dollar store. There are so many things you can use there to fill your pocket!
-
Graduate Theme Pocket Letter:
Around graduation time there were a lot of grad goodies, like tassels that could be tucked into a pocket for a graduate.
-
Wedding Theme Pocket Letter
: My dollar store has a large selection of wedding or bridal shower party goods and favors. You are bound to find things there for a wedding theme pocket letter.
-
Baby Shower Theme Pocket Letter:
The same goes for baby showers. Check for little booties, or even send a bib that you can decorate with a simple permanent marker.
Pocket Letters for Kids
It's amazing seeing children get involved in this hobby!
-Send some glow in the dark shapes for a Glow in the Dark Pocket Letter!
-Send little costume bracelets, sheriff's badges, or jewelery tucked in the pockets so kids can play dress-up! You can even fold a kid's tutu to send in your pocket letter.
-Send barrettes or little hair ties for goodies!
-Plus candy!
Watch this video to see more of these budget friendly tips!
:::::::::::::::::::
Here's some links you should check out too if you're new to Pocket Letters.
What are Pocket Letters?
Janette Lane's Pocket Letter Guide
Pocket Letter Basic Tutorial
Pocket Letter Ideas
Pocket Letter FAQs.
PURCHASE INSERTS FOR POCKET LETTERS HERE:
(affiliate links)