This shop has been compensated by Collective Bias, Inc. and its advertiser. All opinions are mine alone. I only recommend and promote products I personally use and brands that I believe my readers would benefit from and or be interested in. I am disclosing this in accordance with the Federal Trade Commissions (FTC) guidelines concerning the use of endorsements and testimonials in advertising. #HolidayMadeSimple #CollectiveBias #shop #cbias #ad
We're in the midst of the holiday season! Pretty much the smack-dab-middle of it, and it's
wonderful
! Isn't everything better in the winter? The food, the music, family time... There's so much fun to be had (ice skating, baking, holiday parties, etc.) The last thing I want to stress about is what food will be served while
entertaining
my guests or during a Christmas movie marathon.
And speaking of guests, I'm expecting a whole troop of them this upcoming weekend. My sister and her kiddos and husband will be spending a few days with us during the holidays. I haven't seen them (other than Facetime) in over a year, and we haven't spent the holidays together in about 5 years. To say I'm excited is an understatement! I even planned our holiday activities already. No joke! Here's our family holiday bucket list:
-Make paper snowflakes.
-Take an evening walk in our twinkly and wintry neighborhood.
- Have a Blankies & Jammies Movie Marathon where we will watch: Home Alone, Jingle All the Way, and Elf
-Make hot cocoa.
-Build a gingerbread house with my nephews and niece.
-Ice skating at our local ice rink!
-Bake and decorate sugar cookies.
So many fun activities to tackle, right? And do you want to know what's the best part? Not having to worry about what to serve holiday guests! Nestlé has lots of easy
holiday recipes
and options to choose from. I'm going with CALIFORNIA PIZZA KITCHEN® Crispy Thin Crust Frozen Pizza (BBQ Chicken for me please!) for all of my festivities and activities. Yes! I love that!
Festivity Activities
definitely has a nice ring to it...
This pizza is yummy and easy to bake. In 15 minutes you can serve the perfect go-to meal for any holiday gathering. Just follow the directions on the box.
Especially
the part about placing the pizza
directly
on the oven rack. What a difference that makes. Trust me!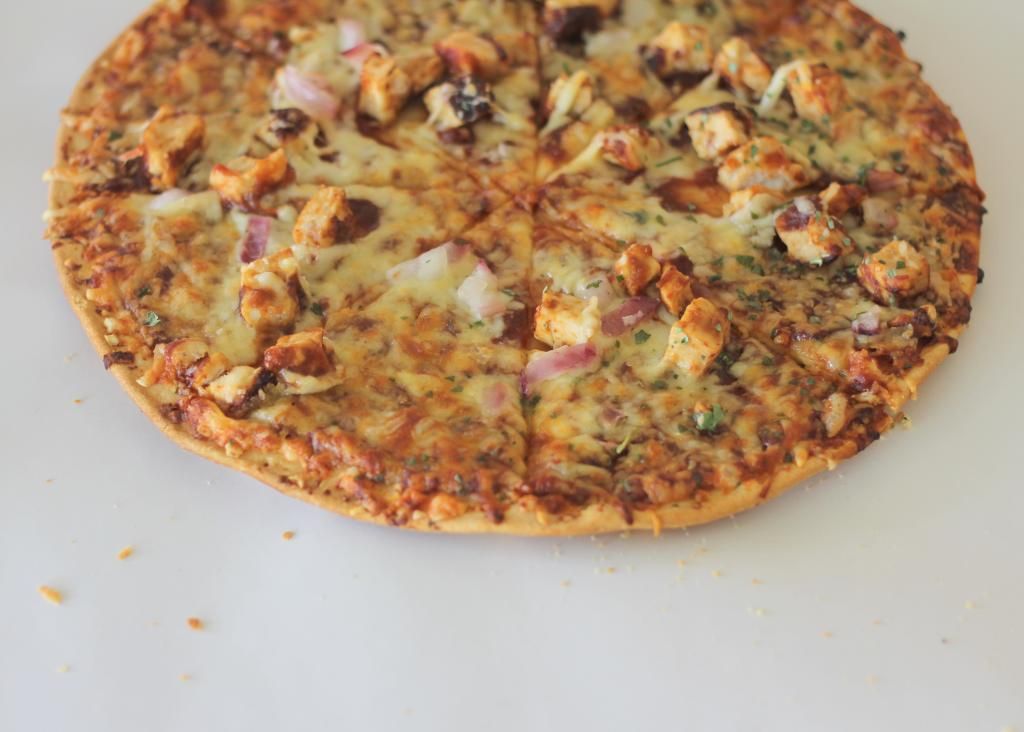 You can taste the quality of the ingredients. It even
looks
homemade! When I served Lovey a piece he asked if I had made it myself. It's
that
good! Also, when I was taking this picture I had to do a double take because I didn't realize the pizza had onions. They looked so fresh! For a split second I thought I had chopped onions myself and added them to the pizza. No joke!
This pizza is the perfect serving option during the holidays. CPK frozen pizza can be paired with all of my Festivity Activities. What's better than a movie marathon and pizza? Or pizza after an ice skating session at the local rink? My favorite pairing is making sugar cookies and eating pizza between baking rounds. Call me crazy, but I think pizza and cookies is the BEST food combination ever!
So pick up a few
CALIFORNIA PIZZA KITCHEN® Crispy Thin Crust Frozen Pizzas for your festivities this holiday season. And r
emember, the less time you spend cooking meals, the more free time you'll have to do those things that make this season magical and memorable.
:


Now tell me, what are some of your favorite festivity activities?
PS. By the way, I got my pizza at Walmart.
PPS. Please check out this gift basket giveaway:
Nestlé Holiday Sweepstakes