This shop has been compensated by Collective Bias, Inc. and its advertiser. All opinions are mine alone. I only recommend and promote products I personally use and brands that I believe my readers would benefit from and or be interested in. I am disclosing this in accordance with the Federal Trade Commissions (FTC) guidelines concerning the use of endorsements and testimonials in advertising. #TasteTheSeason #CollectiveBias #shop #cbias
Do I need to mention that Thanksgiving is one of my favorite holidays again? Well. Yes. It is! I love everything about it: the extra time off work, spending time with family, and especially the
food
! Thanksgiving dinner is my favorite meal of the year. And eating Thanksgiving leftovers the following day is my
second
favorite meal of the year. Today I'm teaming up with
Kraft's
#TasteTheSeason campaign and sharing the most perfect leftover recipe, Turkey Taquitos. This recipe is so good you'll want to make these even after the holidays are over.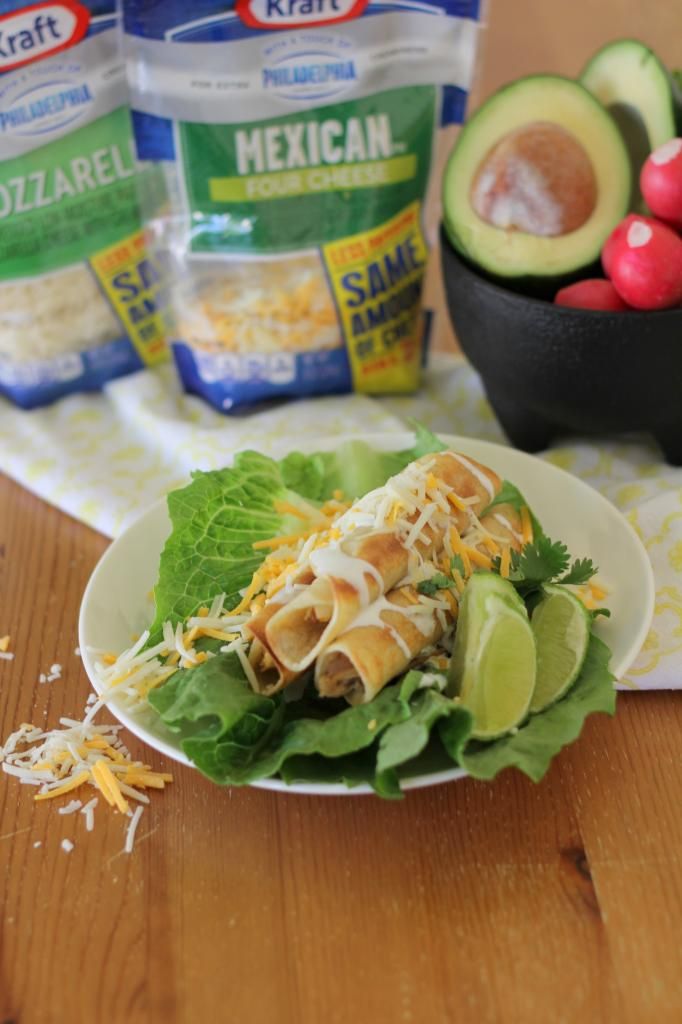 This dish is a tradition in our home. And I'll tell you how it all began....My mother created this meal to make sure she used up all the Thanksgiving leftovers. Being a mother of 6 forced her to be resourceful and creative with our meals. Obviously, my siblings and I would all start complaining after the third day of turkey and mashed potatoes. So she'd make these taquitos to make sure we had variety and also to save money by stretching those holiday leftovers. Now, these taquitos are a thing! We
always
make sure to leave enough turkey to make them during the Thanksgiving holiday weekend. It's tradition!
Here are the ingredients and directions to make your own taquitos at home.
Ingredients
- ½ of an onion, chopped
-1 cup of shredded, leftover Turkey meat
-1 cup of Kraft Shredded Cheese (I used the Mexican Blend, purchased at Walmart.)
-Corn tortillas
-1 tsp of vegetable oil (for sautéing onions)
-¼ cup of vegetable oil (for frying)
-Seasonings
Taquito Paste
-2 TB of flour
-1 TB of water
Taquito Toppings (optional)
-Sour cream
-Salsa
-Guacamole
-Shredded Lettuce
-Shredded Cheese
-Fresh Pico de Gallo
Directions
First you'll want to heat up a skillet to warm the corn tortillas. (If you don't warm them up beforehand, they'll surely break during the taquito assembly part! Trust me!) Make sure you don't overcook the tortillas. You want them to be cooked, but still pliable and easy to roll.
Once you have your warm stack of tortillas, you'll want to prepare your "taquito paste". This paste will help hold the taquitos together while they're being fried. Just mix the flour and water to make a paste and set aside.
Next you'll want to prepare your meat mixture. Add a teaspoon of oil into a skillet. Saute the chopped onions until they're translucent. Add the shredded turkey and season to taste. I use salt, pepper, and garlic powder to add some extra flavor.
Once the turkey meat mixture is warm, add ½ cup of the Kraft Mexican cheese blend. The shredded cheese makes the turkey extra creamy and holds everything together so when it's time to fry the taquitos, the meat won't slide out. Once the cheese has melted set aside to cool.
Now you're ready to prepare the taquitos, assembly-line-style! Grab a tortilla and fill with a little turkey meat/onion mixture. Roll into a taquito. Secure the tortilla, by spooning about ¼ tsp of the taquito paste on the edge of the tortilla. Hold in place for a few seconds or set aside the taquito (folded-side down) while the "paste" dries.
Once you have your little taquito tower, you can either set the batch aside in your fridge for another day or you can warm up the remaining ¼ cup of oil to fry them. This is one of the reasons I love this recipe! It helps stretch those leftovers into a tasty meal you can enjoy throughout the week.
You'll want to eat these right away, so forget saving them and let's get to frying! Warm your oil until it get's a bit shiny, place a few taquitos in at a time, and fry them until golden brown.
Here are some tips to make the frying process easier:
1. Only fry a few taquitos at a time. It'll prevent burning them.
2. Place the taquitos in the skillet with the fold facing down. This will seal the taquito so the cheesy fillings don't slide out during the frying process.
3. Line a plate with paper towels to absorb additional oil.
Now it's time to serve up these warm and crunchy taquitos! Here's how Lovey and I like to eat them...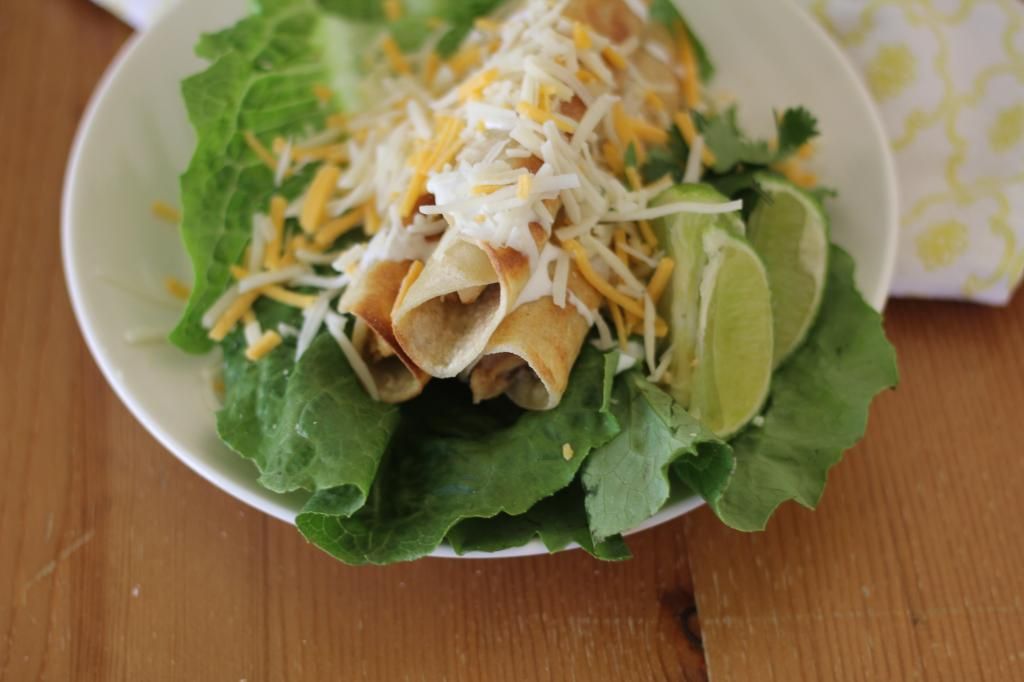 Like I mentioned earlier, turkey taquitos are a great way to break up the monotony of eating Thanksgiving leftovers. Plus shredded turkey goes a long way. Taquitos are also the perfect leftover meal because you can prepare these beforehand and keep them in the fridge until they're ready to be fried (you can also bake them in the oven if you prefer). You can make them in advance for another holiday party or just grab a few for a meal for one. Use that time you saved making dinner to go holiday shopping!
If you need more inspiration, check out the
Cooking Up Good
website. It has recipes, sweepstakes, loyalty programs, coupons and more! What's not to love? If you're looking for a new dinner idea or a chance to win some awesome prizes, be sure to check it out!
Now tell me, what do you do with your Thanksgiving leftovers?