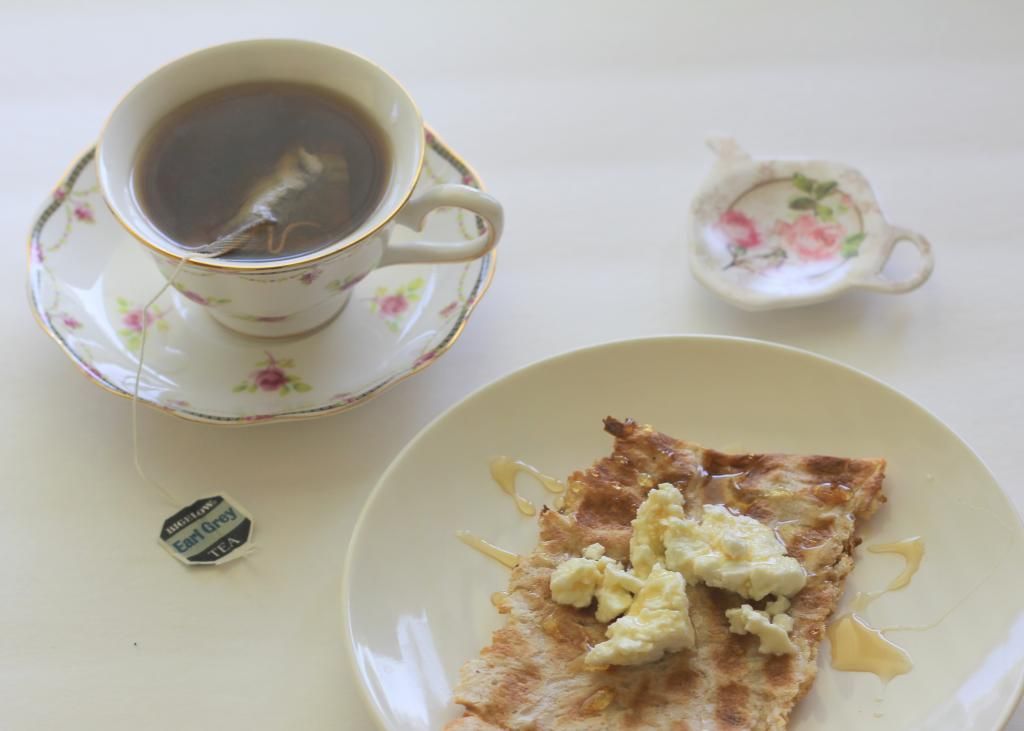 I just wanted to pop by and share my favorite breakfast in all the land. It's simple and pretty much tastes like a philharmonic symphony playing in your mouth. No joke! All these flavors compliment each other really well. All you need is some toasted bread (preferably
sangak
, pictured above), feta cheese crumbles, and honey. Oh yes! And you can't forget your cup of Earl Grey tea. Yes! It MUST be Earl Grey! I've tried this with other teas and it just doesn't give your taste buds the same euphoric effect. Trust me!
If you've never tried cheese with honey, I suggest you give it a chance. I grew up despising honey because my mom used to give it to me with lemon as a homemade remedy for a persistent cough. I must've been one sickly kid because I remember taking that stuff every
day
! *shudder* Or maybe it just seems that way. That all changed when I started dating Lovey. After much coaxing, I finally tried the honey/cheese concoction. It was amazing! Guys, this may or may not have been the moment I fell in love with Lovey. Just sayin'. It's
that
good!
I share all this to simply state the obvious. Try new things! Even if you hate one of the ingredients, maybe your palate has changed over the years. Give it another try! If you hate it, then try it again in another ten years! You may be pleasantly surprised! ;) I was!
PS. Congrats to Jessica B! You won the $25 Target giftcard. I've forwarded your email address to Target, one of their reps should contact you soon! Thanks to all who participated!