The wedding is over! The gifts have been opened. The 200 "Thank You" cards have been sent. You've got this whole married-life thing down pat! You and your spouse are starting to get into a routine. Trash day is Wednesday, dinner with the in-laws is for Thursday evenings, and mortgage payments are due the first of the month. You've fallen into a "groove" and things are great! Better than you could have imagined!
As you get into the ebb and flow of married life it's important to be organized and develop a system to handle daily tasks, like cooking meals and doing the dishes. After all a marriage isn't just fun and games. It's more than planning your weekly date night. It's about the little things in life, like washing dishes and making lunches to take to work. Left undone, these tasks can add stress to your relationship and even affect your finances. With a straightforward system you can organize your life and spare your marriage from avoidable problems.
My husband (AKA Lovey) and I recently began "meal prepping" as a method to help us save time and money. This means we plan our meals for the week, cook them ahead of time, and store them in containers until we're ready to enjoy them. Meal prepping mainly saves time and money, but it's also healthier than eating out. By taking a healthy lunch to work, we can avoid the drive thru and spending those additional dollars and calories.
Today, I've teamed up with Target to show you how you can prepare and organize most of your meals using the
Pyrex 10-Piece Storage Set
. These glass containers come in multiple shapes and sizes which make it easy to store and transport anything from soups to sandwiches. Paired with the T-fal Simply 20 Piece Cook Set (which you can find by going to the
Target Wedding registry
), this duo can equip couples to tackle the task of weekly meal preparation. Or you could pair your Pyrex with anything from the Target kitchenware department. From crockpots to cutlery, Target has everything you need to begin your culinary adventure!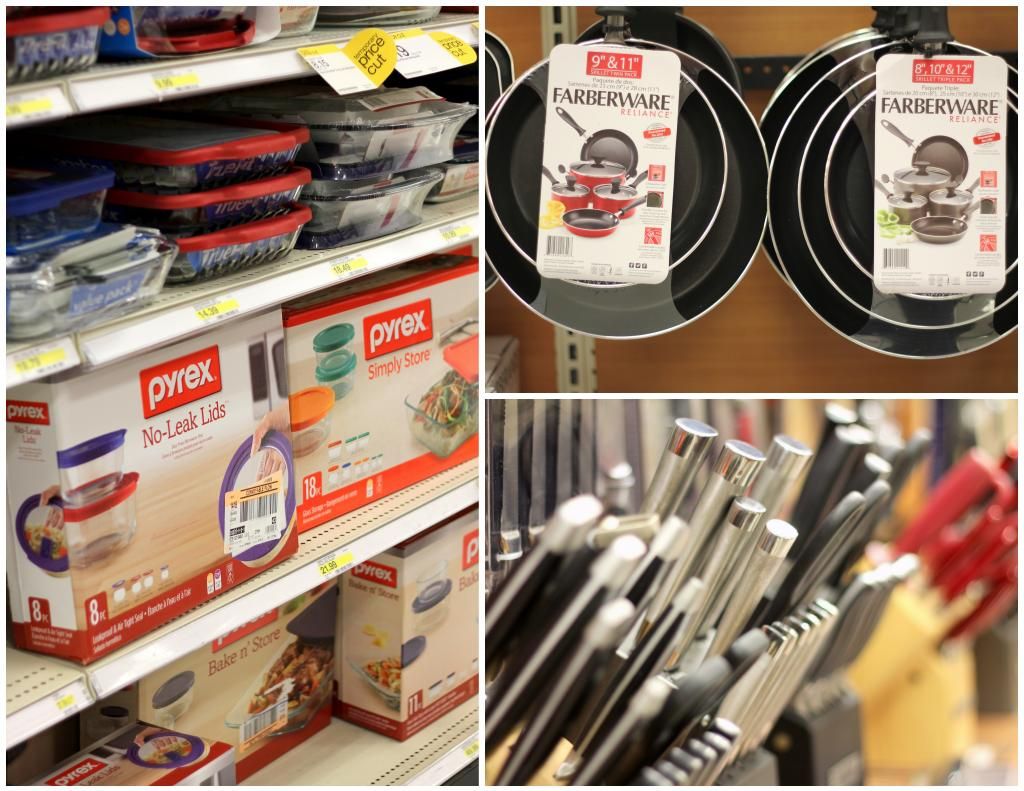 Your meals don't have to be fancy, either. Usually we prepare chicken and two different veggie sides, like oven baked sweet potatoes and steamed broccoli. You simply cook a large batch of everything and divide equal portions into your containers which can then be reheated come meal time. If you don't have time to set a day aside to meal prep, then just cook a couple of extra servings of your dinner and put them away for the next day. Easy, right?
Pyrex containers are also money savers. By not eating out as much, Lovey and I can indulge on something really special with the money we've saved. We used to regularly exceed our budget by eating out multiple times a week, but by consciously making an effort to plan ahead of time, we were able to save a little extra cash and splurge on orchestra seats to
two
musicals! (We love seeing a good show!)
What about you? Do you have any suggestions to help organize the home? Or do you have money-saving ideas? Please share them in the comments below. Also don't forget to visit the Target Wedding registry for more gift ideas.
: : : : : : : : : : : : : : : : : :


GIVEAWAY
For a chance to win a $25 Target Giftcard please complete the following 2 MANDATORY REQUIREMENTS
(1 entry):
1. Follow Janette Lane Blog via GFC
2. Visit the
Target Wedding registry
and leave a comment below telling me about an item that would contribute to making your home life easier or more organized.
For Additional Entries
-Regram any of my pictures on my Instagram account and caption it saying: " @janettelaneblog told me to regram her picture so I can have a chance to win a $25 Target gift card on her blog." (1 entry)
-Share the link to this blogpost on Facebook and tag me. (1 entry)
-Tweet this: "
Get into the groove w/ #TargetWedding & enter for a chance to win a $25 Target giftcard! @janettelaneblog http://janettelane.blogspot.com/2014/09/getting-into-our-groove.html
"
A winner will be randomly chosen next week and notified via email! Thank you and good luck!
: : : : : : : : : : : : : : : : : :
PS. For more organizational tips, DIYs, and finding
your
groove, please follow #TargetWedding on Twitter, Pinterest, and Instagram. Thanks for reading!
Content and/or other value provided by our partner, Target. All opinions are my own.