I've been talking a lot about summer recently (
here
&
here
), so I thought I'd keep up with the theme and share a Summer Reading List. 2014 has certainly become the year of feasting on books. It was actually one of my New Year's resolutions to read more. But who actually
thinks
or undertakes
keeping
resolutions beyond January 31st? Apparently I do. Me! Me?! Yup. Me! I surprise myself sometimes.
Anyway. I hate to blabber on and on. So lets get right to the list. There's something here for everyone, I think. Classics. Bestsellers. Some good books. And probably some crappy ones too. If some of these totally stink, then don't hate me because I haven't read most of these...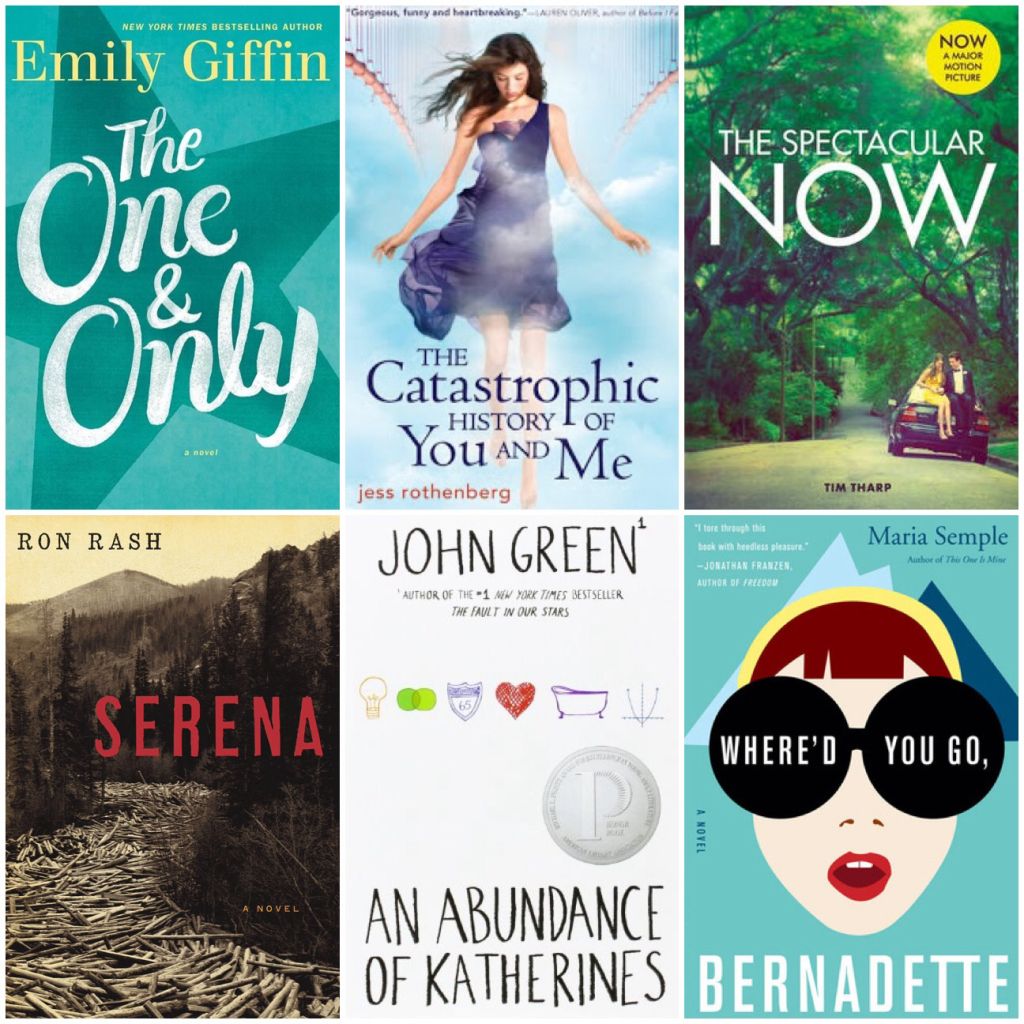 Top to bottom, Left to Right
"And the Mountains Echoed" by Khaled Hosseini
"Khaled Hosseini, the #1 New York Times–bestselling author of The Kite Runner and A Thousand Splendid Suns, has written a new novel about how we love, how we take care of one another, and how the choices we make resonate through generations."
"If I Stay" by Gayle Forman
"Choices. Seventeen-year-old Mia is faced with some tough ones: Stay true to her first love—music—even if it means losing her boyfriend and leaving her family and friends behind? Then one February morning Mia goes for a drive with her family, and in an instant, everything changes. Suddenly, all the choices are gone, except one. And it's the only one that matters. If I Stay is a heartachingly beautiful book about the power of love, the true meaning of family, and the choices we all make."
"East of Eden" by John Steinbeck
"Set in the rich farmland of California's Salinas Valley, this sprawling and often brutal novel follows the intertwined destinies of two families—the Trasks and the Hamiltons—whose generations helplessly reenact the fall of Adam and Eve and the poisonous rivalry of Cain and Abel. Here Steinbeck created some of his most memorable characters and explored his most enduring themes: the mystery of identity; the inexplicability of love; and the murderous consequences of love's absence."
"The Opposite of Loneliness: Essays & Stories" by Marina Keegan
"
Even though she was just twenty-two when she died, Marina [Keegan] left behind a rich, expansive trove of prose that, like her title essay, captures the hope, uncertainty, and possibility of her generation. The Opposite of Loneliness is an assemblage of Marina's essays and stories that, like The Last Lecture, articulates the universal struggle that all of us face as we figure out what we aspire to be and how we can harness our talents to make an impact on the world."
"Finding Me: A Memoir of the Cleveland Kidnappings" by Michelle Knight, Michelle Burford
"Michelle was a young single mother when she was kidnapped by a local school bus driver named Ariel Castro. For more than a decade afterward, she endured unimaginable torture at the hand of her abductor...
In Finding Me, Michelle will reveal the heartbreaking details of her story, including the thoughts and prayers that helped her find courage to endure her unimaginable circumstances and now build a life worth living."
"
The Bell Jar" by Sylvia Plath
"Esther Greenwood is brilliant, beautiful, enormously talented, and successful, but slowly going under—maybe for the last time. In her acclaimed and enduring masterwork, Sylvia Plath brilliantly draws the reader into Esther's breakdown with such intensity that her insanity becomes palpably real, even rational—as accessible an experience as going to the movies. A deep penetration into the darkest and most harrowing corners of the human psyche, The Bell Jar is an extraordinary accomplishment and a haunting American classic."
"The One & Only" by Emily Giffin
"
Thirty-three-year-old Shea Rigsby has spent her entire life in Walker, Texas—a small college town that lives and dies by football, a passion she unabashedly shares. Raised alongside her best friend, Lucy, the daughter of Walker's legendary head coach, Clive Carr, Shea was too devoted to her hometown team to leave. Instead she stayed in Walker for college, even taking a job in the university athletic department after graduation, where she has remained for more than a decade. But when an unexpected tragedy strikes the tight-knit Walker community, Shea's comfortable world is upended, and she begins to wonder if the life she's chosen is really enough for her..."
"The Catastrophic History of You & Me" by Jess Rothenberg
"BRIE'S LIFE ENDS AT SIXTEEN: Her boyfriend tells her he doesn't love her, and the news breaks her heart—literally. But now that she's D&G (dead and gone), Brie is about to discover that love is way more complicated than she ever imagined. Back in Half Moon Bay, her family has begun to unravel. Her best friend has been keeping a secret about Jacob, the boy she loved and lost—and the truth behind his shattering betrayal. And then there's Patrick, Brie's mysterious new guide and resident Lost Soul . . . who just might hold the key to her forever after."
"The Spectacular Now" by Tim Tharp
"SUTTER KEELY. HE'S the guy you want at your party. He'll get everyone dancing. He' ll get everyone in your parents' pool. Okay, so he's not exactly a shining academic star. He has no plans for college and will probably end up folding men's shirts for a living. But there are plenty of ladies in town, and with the help of Dean Martin and Seagram's V.O., life's pretty fabuloso, actually. Until the morning he wakes up on a random front lawn, and he meets Aimee. Aimee's clueless. Aimee is a social disaster. Aimee needs help, and it's up to the Sutterman to show Aimee a splendiferous time and then let her go forth and prosper. But Aimee's not like other girls, and before long he's in way over his head. For the first time in his life, he has the power to make a difference in someone else's life—or ruin it forever."
"The year is 1929, and newlyweds George and Serena Pemberton travel from Boston to the North Carolina mountains where they plan to create a timber empire. Although George has already lived in the camp long enough to father an illegitimate child, Serena is new to the mountains—but she soon shows herself to be the equal of any man, overseeing crews, hunting rattle-snakes, even saving her husband's life in the wilderness. Together this lord and lady of the woodlands ruthlessly kill or vanquish all who fall out of favor. Yet when Serena learns that she will never bear a child, she sets out to murder the son George fathered without her. Mother and child begin a struggle for their lives, and when Serena suspects George is protecting his illegitimate family, the Pembertons' intense, passionate marriage starts to unravel as the story moves toward its shocking reckoning."
"An Abundance of Katherines" by John Green
"When it comes to relationships, Colin Singleton's type happens to be girls named Katherine. And when it comes to girls named Katherine, Colin is always getting dumped. Nineteen times, to be exact. On a road trip miles from home, this anagram-happy, washed-up child prodigy has ten thousand dollars in his pocket, a bloodthirsty feral hog on his trail, and an overweight, Judge Judy-loving best friend riding shotgun--but no Katherines. Colin is on a mission to prove The Theorem of Underlying Katherine Predictability, which he hopes will predict the future of any relationship, avenge Dumpees everywhere, and finally win him the girl."
"Where'd You Go, Bernadette?" by Maria Semple
"Bernadette Fox is notorious. To her Microsoft-guru husband, she's a fearlessly opinionated partner; to fellow private-school mothers in Seattle, she's a disgrace; to design mavens, she's a revolutionary architect, and to 15-year-old Bee, she is a best friend and, simply, Mom. Then Bernadette disappears...To find her mother, Bee compiles email messages, official documents, secret correspondence—creating a compulsively readable and touching novel about misplaced genius and a mother and daughter's role in an absurd world."
::::::::::::::::::::::::::::::::::
Please let me know if you're familiar with any of these titles and tell me what you think! Also,
follow me
on Goodreads. I'm actually one of those people that reads what you tell them to;)
***FOR A CHANCE TO WIN A $25 TARGET GIFTCARD CLICK HERE!
***