This week flew by! It feels like I say that a lot, and I apologize for my redundancy, but it's a fact! Here's what my past week looked like: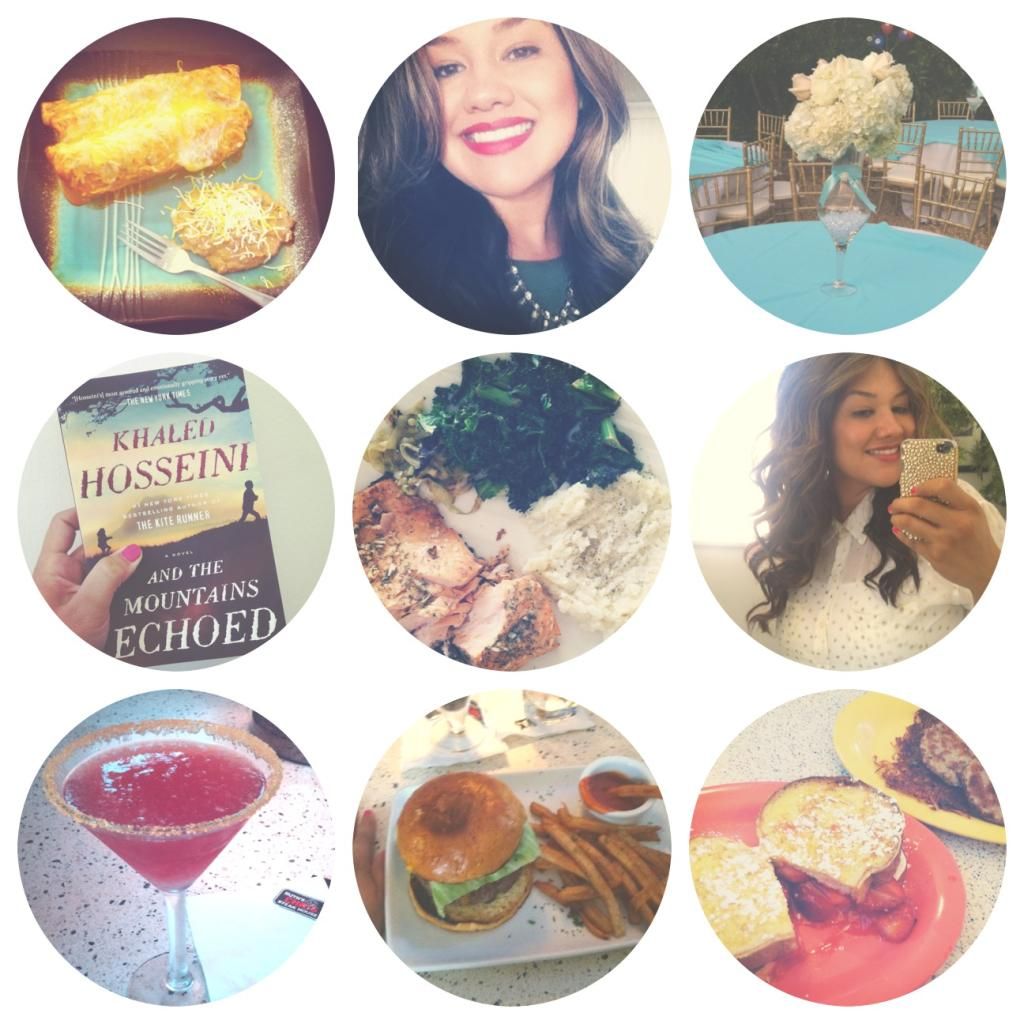 Left to Right (starting at top!):
1. So our beloved buddies (who shall henceforth be referred to as The Casablancas.) invited us to their home for enchiladas...
Turkey
enchiladas. They were DELICIOUS and super easy to make. Like. I should TOTALLY attempt to make some because they're just so ridiculously glorious. Maybe I'll get the recipe from Mrs. Casablanca and share with you all.
2. This was the face I took to one of Lovey's cousin's engagement party. It was swanky! I figured (since it was at one of his relatives' homes) it would be more of a "laid back" causal soiree, but I was
grossly
mistaken! And grossly
under-dressed!!!
Lesson learned: Never EVER disregard the fancy factor of a Persian party.
3.See what I mean? Who has golden chairs at a backyard bash!!!!? NICE!
4. I finished reading Khaled Hosseini's
And the Moutains Echoed
. (I've taken the reading down a notch lately.
No more 7 books in 7 days
...) The story was intense and lovely and all about family and the tangled web we weave. SO GOOD!
5. I've decided to include Kale in my veggie rotation at Lovey Manor. It's DELISH! I've made Kale chips and had Kale in my smoothies before, but I never simply sauteed and served it. It's a keeper!
6. I recently purchased a 1 inch curling iron, and I had never tried it all over my hair. I really like the size and the hold of the curls.
7. Yesterday Lovey and I went with The Casablancas to the most amazing Happy Hour place in the history of Happy Hours: Ruth's Chris! It was surprisingly affordable and tasty! Everything was $7. And this Pomegranate Martini was refreshing, smooth, and really fruity. I thoroughly enjoyed it!
8. A prime burger & fries from Ruth's Chris for $7??? That's cheaper than McDonald's!
9. Strawberry filled french toast is the perfect way to start off the weekend. Am I right? I ate this for breakfast today.
Well friends, I hope you all have a super fun and relaxing weekend! Mine promises to be a doozy. Lovey and I are going to see a musical! Woo! (I'll fill you in on that later!) Our next few weekends are booked solid, so hopefully I'll have lots of stuff to share around here! XOXO