I purchased this cream and black striped beanie at Forever 21 for about $8. It's probably one of my favorite Fall purchases for the following reasons:
1. It's striped. (I
love
stripes.)
2. It's big. (I have a big head and it's hard to find hats that fit. Seriously.)
3. Did I mention it's striped?
4. It's warm.
5. $8 is a steal!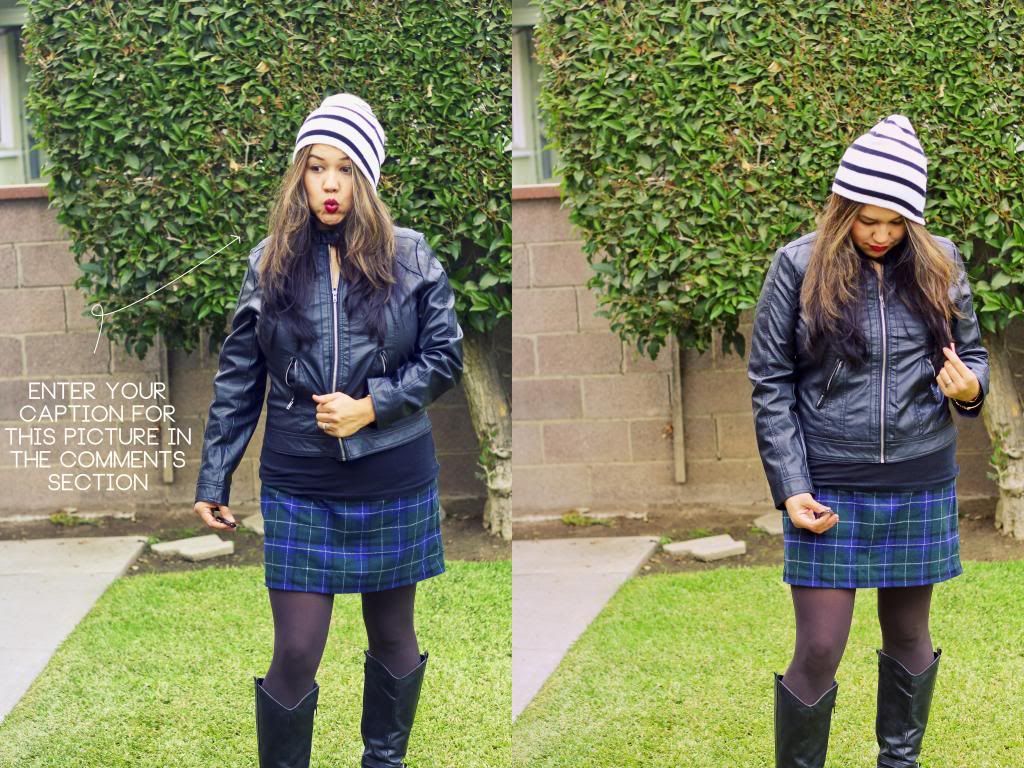 |||OUTFIT DETAILS: Skirt (Thrifted)-Boots(Marshalls)-Jacket(Burlington Coat Factory)-Tights(Gifted)-Sparkly black tank(Target)-Beanie(Forever 21)|||
Here I paired it with my thrifted tartan (??) skirt and a faux leather jacket on a perfectly dreary, Fall day. Oh how I love Fall and Fall fashion! I could live in this season forever. And speaking of fashion.. Guys, I really wish I could be a fashion blogger, but I'm just the most awkward thing
ever
(and hardly fashionable haha!). It's soooo hard to capture myself using my tripod and timer.. I'm either not in the frame or blurry. And also lets talk posing... How do some of you come up with all your poses? I have 3 poses.
THREE!
1. "Just stand there with a weird expression" pose.
2. "Check my shoe for poo" pose.
3. "Look down at my jacket for stains" pose.
I don't know how you do it. I definitely need major help in that area. Anyway. Let me know what you think about this post in the comments below. Is this something you'd like to see more of on my blog? Or not really? Also include a caption for that picture up there. Thanks!
PS. Hmm..then again, who said outfit posts can't be awkward?