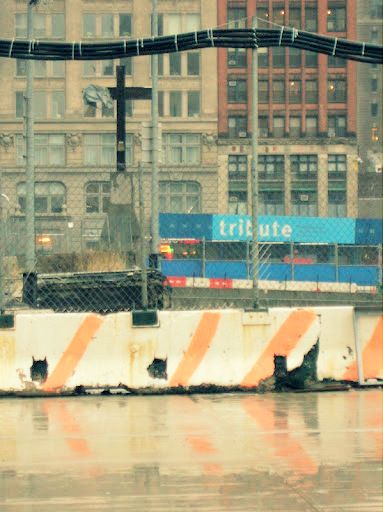 Ground zero from my trip in 2005.
Gosh.. I was having a pretty crummy day yesterday...and if you follow me on IG, you know why... (More on that later) But as I was thinking about my seemingly frustrating moment, I paused to reflect on today. September 11th. And after that, my troubles didn't seem so bad...
It's a day I promised myself I would never forget. And I remember it clearly... My sister woke me up to the sound of the morning news...She said, "Janet, wake up. Something really bad is happening..." And indeed it was terrible. I watched mesmerized (before the 2nd plane hit) trying to figure out what was going on. A movie perhaps? A sickening practical joke? A few minutes later, the plane hit the other tower, and I thought to myself, "This is not real. It. Can't. Be. They must be filming a movie. Someone will come on the air shortly and say that this was just a big prank...Like the time they aired that one radio show that everyone thought was real.." (What was that show called? War of the Worlds?) It was
horrific
. All those people. :-(
That whole day had a heavy feeling to it.. I remember driving around and everything felt thick and sluggish. We were a nation in mourning. And it was a little scary the next few days after that. I often heard military jets patrolling our area at night (I guess because we were so close to L.A.) and I kept thinking that nothing would ever be the same. It certainly isn't.
Let us vow to never forget this date.
Ever.